Waterley's Guest Book 2014 & 15
2015
Steve, Julie, Laura & Nicky, Scarborough
A really good two weeks for our third visit in this superb cottage which is ideally placed for our touring around the area. Thank you for your hospitality. We will be back.
Linda and Martin Page
Another stay at this lovely cottage. Lots of different walks this year. Burgers still good at Snakecatcher and great food at Bistro 26 in village. V good food also at Hare & Hounds on Brockenhurst - Sway road.
Sarah, Chris and Thomas (8)
Third great stay. Lovely cycle rides around the forest, good weather! See you again.
Jennie and Mic, Devon
Lovely cottage. Reacquainted ourselves with the forest after the end of family holidays when the kids grew up. Still a fantastic place, lots of walks, lovely meal at the Waterloo Arms Pikes Hill. Reptile Centre & Bird Cam at Holiday Hills brilliant.
Simon, Emily & Charlotte, Cambs
2nd time at Waterley and loved every minute. Great family friendly pub finds at the White Buck, Hare and Hounds and Red Lion. Brilliant afternoon pony riding at Burley Manor. Great sea-side and crabbing day @ Mudeford and many very pretty forest walks. Thank you Ann, cottage is fabulous and we hope to be back.
Sean & Julie
Another great holiday. Enjoyed the walk from Downton to Fordingbridge - lovely water meadows. Salisbury great for shopping and spotted the peregrin falcon too. The cottage feels like home from home once again. Walk through the woods and saw heron and other animals. Thanks again.
Terry & Margs Graham
2nd stay in this lovely cottage. Great weather for cycling in the forest. Seen lots of wildlife as well as ponies and donkeys. Sad to see Il Pallio gone, but new Italian is good.
Gloria and Michael
Lovely location - great to see ponies and donkeys right outside window! For us also very convenient for station - trains and New Forest buses - excellent holiday.
Aysel, Stas, Ilya, Ira & Gunel
We had a great holiday. Cottage is in good condition, loads of useful things, good communication with the owner.
The Coopers, Ipswich
Fantastic week here in the New Forest. Many happy memories. Thanks for the loan of the cottage.
Amanda, Ian, Daniel (8) & Adam (4)
A great week here in the New Forest. Cottage is fantastic - just what we wanted. We got to do some lovely walks in the forest - loved Bolderwood and seeing the deer. Fantastic horse ride at Burley Manor stables, can thoroughly recommend it. The highlight of our holiday! We loved 'Melt' for coffee and ice-creams. For pubs we liked the Snakecatcher in Brockenhurst and Hare and Hounds in Sway. We also liked The Plough at Tiptoe. Thanks Ann!
Andy, Michelle & Nadia
Enjoyed our stay. Thanks very much. Had day trips to Bournemouth and London from Brockenhurst. Enjoyed Beaulieu and the New Forest countryside and animals!
Julie & Sean
Thanks again and for sharing your wonderful cottage with us. Home from home. See you soon.
Dave & Martine, Buckinghamshire
If you look back through this book it says it all. So many of us have come back time and again ... Hope to be back again next year ... Many thanks.
Stuart, Chris and Ruth Andrew, Birmingham
6th time here and as good as ever. Used the train quite a bit this year. Three or more people gets group travel discount. Went on train to Portsmouth to see Mary Rose - fab!!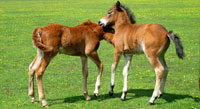 2014
Rachael, Paul & Harry, Hertfordshire.
Fab week in lovely cottage. Food great as ever at The Oak at Bank. Lots of cycling and walking, despite some rain!
Julie, Nigel, Daniel and Samuel, Rochester, Kent.
Our 4th visit to this lovely, comfortable cottage - thank you very much once again. A great week spent cycling many miles through the beautiful forest, fabulous weather. Boys enjoyed a trip to Beaulieu Motor Museum.
Andrew, Debbie, William and Jacob, Bedfordshire.
An amazing place, house in a perfect location especially for a horse mad 2 yr old!! Exbury Gardens was a great day out and lots of walks around the beautiful forest. Looking forward to re-booking for next year. Thanks again.
Linda and Martin Page
Another lovely stay at the cottage. Weather a bit mixed this week so its always nice to come back knowing you can have a hot shower. Had a couple of meals at the Bistro 26 across the road from the Snake Catcher - excellent - would thoroughly recommend.
Sean and Julie, Tyne & Wear
Another great stay. Brilliant weather and lovely cottage. Enjoyed eating out and walk to Bucklers Hard as well as all the quaint villages and tea shops. Lots of bears too! So cute!
Terry & Margs, Darlington
Lovely cottage, great weather, good to return to our favourite haunts for cycling and wildlife.
Sue & Dewey Clemons, Littleton, Colorado USA
Had a fabulous visit. Could not have picked a better location or a better place to stay. Everything was perfect for us.
Claire, Roly, Rosie & Freddie, North Nibley [very neatly written by one of the children]
First proper day, great so far. Been along to Lymington great place to go! Thank you Ann for a lovely stay. Burley Manor Stables is a good place to go riding. And Motor Museum in Beaulieu. We recommend those two. Loved having the ponies outside the front door! Very cute foal!
Sarah, Chris and Thomas (7), Middlesex
Another lovely week, weather mixed. Good visit to Motor Museum. Lots of great bike rides and trips to Lymington, Keyhaven and Barton-on-Sea, lovely views of Isle of Wight. The Rose and Crown across the green has a nice beer garden full of families. See you again!
Howard and Margaret Allen
Another good holiday with the e-tandem. V pleased to have covered 160km (mainly on forest tracks) of geriatric cycling. Cottage as good as ever.
Martine and Dave, Buckinghamshire
Another glorious week around our favourite haunts. Thanks.
Stuart, Chris and Ruth, Birmingham
Our 5th visit, good as ever. New this time:
Train to Winchester for Jane Austin tour from Cathedral, great.
Hythe ferry to Southampton for Sea City Museum. Excellent especially the Titanic gallery. A good day out.
Best Pub in the area Hare and Hounds on the Brockenhurst to Sway road, turn by Lloyds Bank, 2 miles and well worth the trip. Good food, great old style pub.
Vince & Natalie Cessonus & Pat & Lyle Van Leeuwen Australia
Thank you for your hospitality at the cottage.
Bill, Becky, Matthew and Alex
Another great holiday and great weather. The boys loved Longleaf and getting the ferry from Southampton to Cowes. More great walks at Bolderwood and Highcliffe beach and the nearby forests. Thank you.
Val, Peter and Jenny, Lake District
This has been one of the most comfortable and cosy cottages we have ever stayed in - thank you.